L to R: (Back Row) Ted Fox, Mike Ziskind, Andrea Laguni, Victor Culatta, David Morgan, Ernie Santora, Jan Judziewicz, Melissa Preshaw, Raymond Stimson, Joe Nelson, Jerry R. Soria-Foust (Artistic Director)
L to R: (Front Row) David Smith, Treasurer; Henry Doering, Vice President; Alan McPhail, President; Brad Kane, Secretary
To email the individual, click on their name
Executive Board Members
Board Members
Victor Culatta – Chair, Community Outreach
Henry Doering – Chair, Governance
Ted Fox – Chair, Music Advisory
Jan Judziewicz – Chair, Production/Section Five
Andrea Laguni – Chair, Strategic Planning
David Morgan – Co-Chair Membership
Kunal Mukherjee
Raymond Stimson – Co-Chair Membership
Michael Ziskind – Co-Chair, Development
Additional
Artistic Director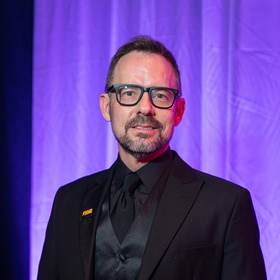 Jerry R. Soria-Foust is a professional music educator and arts leader, with a career spanning more than 25 years. At the age of 19, Jerry had his first GALA choruses experience, performing in the inaugural season of the Indianapolis Men's Chorus. That experience was transformational, and he credits participation in a number of GALA organizations for the fulfilling life he leads as a teacher, leader, artist, husband, dad and grandpa.
From 2005-2009, Jerry served as Artistic Director for the San Diego Men's Chorus, where he led the chorus through a number of milestones, including performing as main stage entertainment on an ocean liner for RSVP cruises, singing the national anthem for the San Diego Padres, and becoming the resident choral ensemble in the newly renovated Balboa Theatre in downtown San Diego. During his time with SDMC, the Chorus collaborated with a number of award-winning artists, including Tony-nominated Sharon McNight, Broadway & American Idol star Frenchie Davis, Olympic legend Greg Louganis, playwright Del Shores, Grammy-nominated Westwind Brass, the San Diego Women's Drum Circle, and more.
Jerry was the Founding Director of Opus Q – A Men's Vocal Ensemble, a select ensemble specializing in diverse repertoire performed in intimate settings in the Bay Area. He also served briefly as the Artistic Director for the Lesbian/Gay Chorus of San Francisco, where the chorus collaborated with luminaries like Sharon Gless and Sir Ian McKellen, as well as the San Francisco Gay Men's Chorus.
As a professional theatre director and producer, Jerry has been involved in over 100-ticketed productions. As Executive Director and Director of Education of Berkeley Playhouse, he led expansion of the organization' programs, ticket sales, subscribers and budget by 400%. From 2011-2019, Jerry founded and served as Artistic Director of Windy City Performs, an all-ages professional theatre and conservatory in Chicago, where he created after-school and pre-professional training programs in music, dance and theatre. WCP was nominated for multiple Broadway World Chicago awards over the years; and was named Chicago Magazine's Readers' Choice award for Best Theatre in 2016.
Jerry's passions include inspiring people of all ages to love the performing arts, creating access to life-changing performing arts opportunities for children of all backgrounds, and exploring how the arts can answer some of today's most difficult challenges. Jerry is a graduate of Butler University and San Diego State University. In addition to serving as the proud director of PSGMC, Jerry currently teaches instrumental and choral music in Riverside County.
Accompanists
Principal Accompanist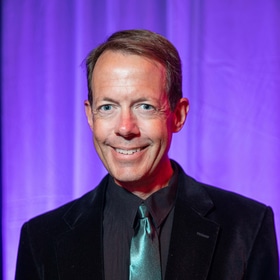 Joel Baker is a native of the Seattle area, and earned his B.A. degree from the University of Washington School Of Music, where he studied with internationally acclaimed pianist Robin McCabe. While in Seattle, Joel was a pianist for Nordstrom for fifteen years.[/read_more]
Moving to the desert in 2003, Joel began playing in various venues around town, and can currently be found at Streetbar, Three Sixty North, Wally's Desert Turtle, and The Purple Room, where he plays for "The Judy Show," starring Michael Holmes. Recently, Joel served as music director for "The Who's 'Tommy'" at Palm Canyon Theater. He lives in Palm Springs with his husband, Don. For more fun facts, please visit Joel's web site at www.misterpiano.com.
Accompanist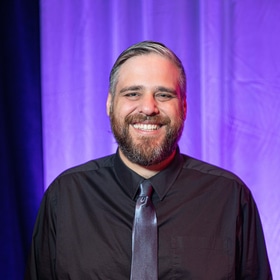 Kurt Jordan developed an intense interest in learning the piano after having seen The Phantom of the Opera with his parents at age 10. He studied under the guidance of Joann Algier throughout middle and high school, during which time he discovered a love of music using multiple pianos. This passion was further explored at Azusa Pacific University while studying with Dr. Robert Sage. Kurt performed several recitals of material he arranged for two and three pianos, the recordings of which have received radio play in Los Angeles, Santa Barbara, Santa Cruz, Boston, Austin, and Beirut. In 2009, Kurt had the honor of performing the West Coast premiere of Alvin Curran's 7.5 hour long piano song cycle, Inner Cities 1-13, as well as the U.S. premiere of movement 14 at Burning Man in 2013. Kurt graduated from Azusa Pacific University in 2010 with a BA in Music Theory and Composition. In 2013, Kurt became the accompanist for two small groups within the Palm Springs Gay Men's Chorus. Most recently, he has been involved as the accompanist for Songshine, a non-profit organization that teaches speech therapy through music for people with Parkinson's disease and stroke.
Sign Language

–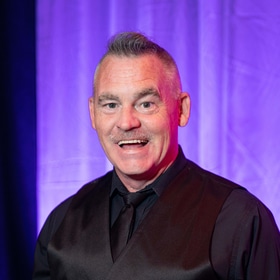 Martin Coogan – Sign Language Interpreter
Martin has been involved in music and theater, in some fashion, since his youth as a dancer/choreographer. His talents include being a DJ, costume designer, hair and make-up artist, as well as assisting in direction and producing. When he stepped into the signing world in 1995, in the beginning, Martin would watch performance interpreters and be in awe and think, that was not possible for a person whose second language is ASL. All that changed, when he moved to the valley from Seattle, nearly ten years ago. "It is a privilege and an honor to be the signer for the Palm Springs Gay Men's Chorus, Pah!"