A Chorus Like No Other
Since 1999, PSGMC has given back to its community through grants for the George Zander Memorial anti-bullying grants, collecting household items and toys for Martha's Village and Kitchen and singing at a wide-array of community events. These highly visible productions include: DAP Health Equity Walk, opening of the LGBTQ+ Community Center, Greater PS Pride, Cathedral City LGBT Days, Rancho Mirage Library, Palm Desert "Sunday Sounds", Indio Tree Lighting and so much more. In November 2016, PSGMC was recognized as the Organization of the Year by Greater Palm Springs Pride and In 2018, the city council gave PSGMC a proclamation as "The Official Gay Men's Chorus of the City of Palm Springs."
Palm Springs Gay Men's Chorus continues to be, A Chorus Like No Other!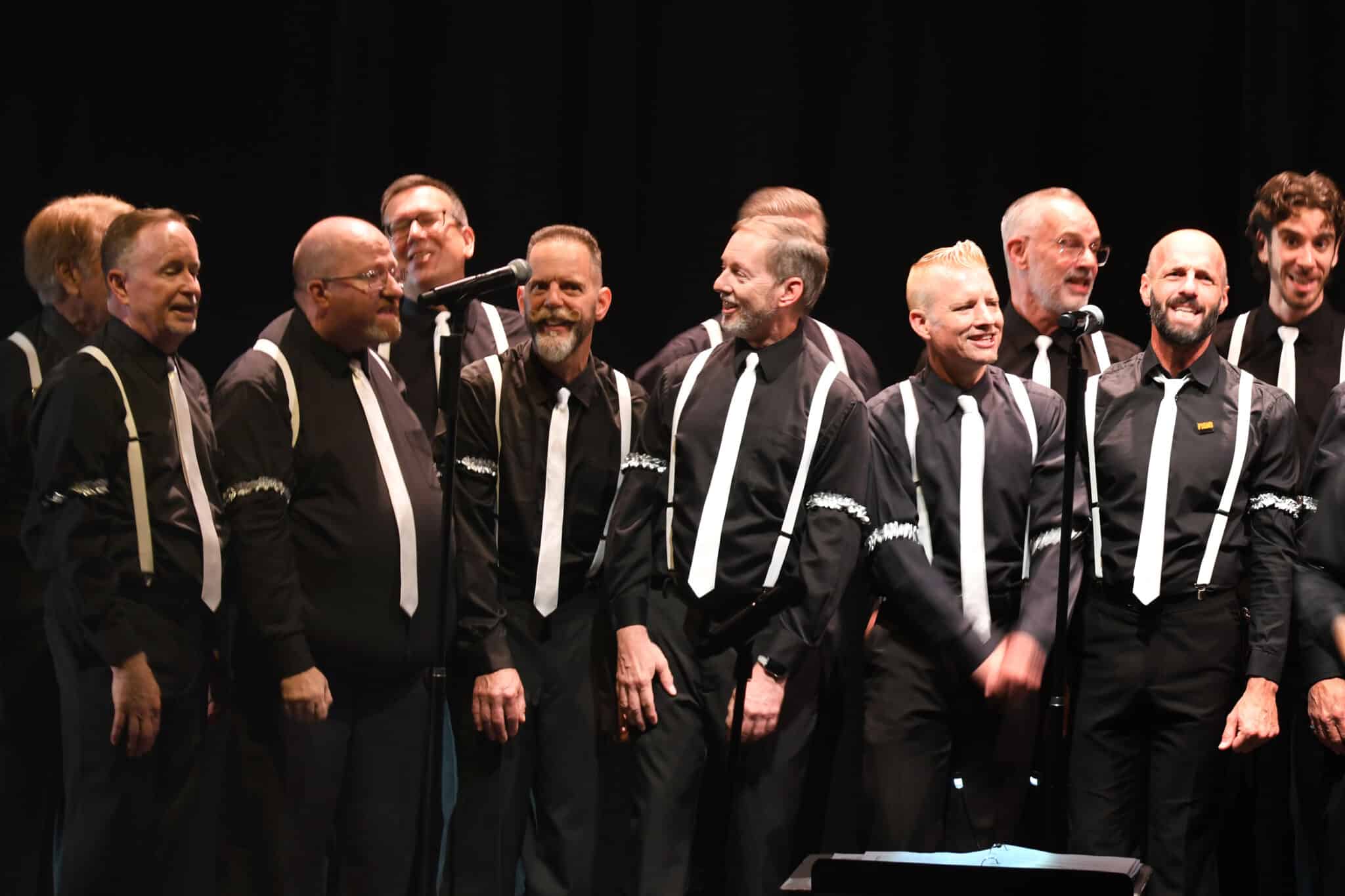 The Arrangement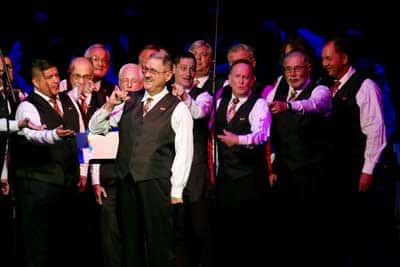 Did you know that there are only two musical categories in history that have been 100% "American born?" One is Jazz, and the other is Barbershop—both of which have now spread around the globe, entertaining millions of people!
In the summer of 2014, a small group of PSGMC Chorus singers decided to give Barbershopping a try, and the nucleus of The Arrangement was born! Beginning with just 8 people, looking for a new musical experience during the Chorus' traditional "summer break", the siren call of four-part close harmony quickly attracted new practitioners, and by the 2014 "Mid-Century Modern Holiday" concert, 16 singers were ready to make their stage debut with PSGMC!
Now boasting 30 singing members, under the direction of founder Bruce Kenyon (an award winning barbershop quartet and chorus singer), The Arrangement provides a fun presentation of this very beautiful—and challenging—musical style. The close-harmony 4-part men's music presented by our "barbershoppers" is a welcome addition to the PSGMC's wide range of singing repertoire.
Mission Statement
Through musical excellence, community outreach, and civic responsibility, the Palm Springs Gay Men's Chorus seeks to entertain, inspire, and educate the culturally diverse community in which we live.
Vision Statement
Establish PSGMC as a preeminent voice and resource for the LGBTQ Community and its allies to celebrate its diverse cultural and civil rights accomplishments.
Statement of Non-Discrimination
The Palm Springs Gay Men's Chorus does not discriminate in its employment practices on the basis of race-ethnicity, color, creed, national origin, ancestry, sexual orientation, gender, gender self-identification, age, disability, veteran status, religion, or political beliefs.
GuideStar Certification

The Palm Springs Gay Men's Chorus has passed GuideStar's stringent requirements to certify PSGMC as a non-profit.

Gala Choruses
GALA Choruses leads the North American LGBT choral movement. More than 180 member choruses and 8,000 singers look to them for support and leadership strategies. They are dedicated to helping choruses become more effective, both artistically and administratively. They assist emerging choruses and facilitate networking and training for established groups.