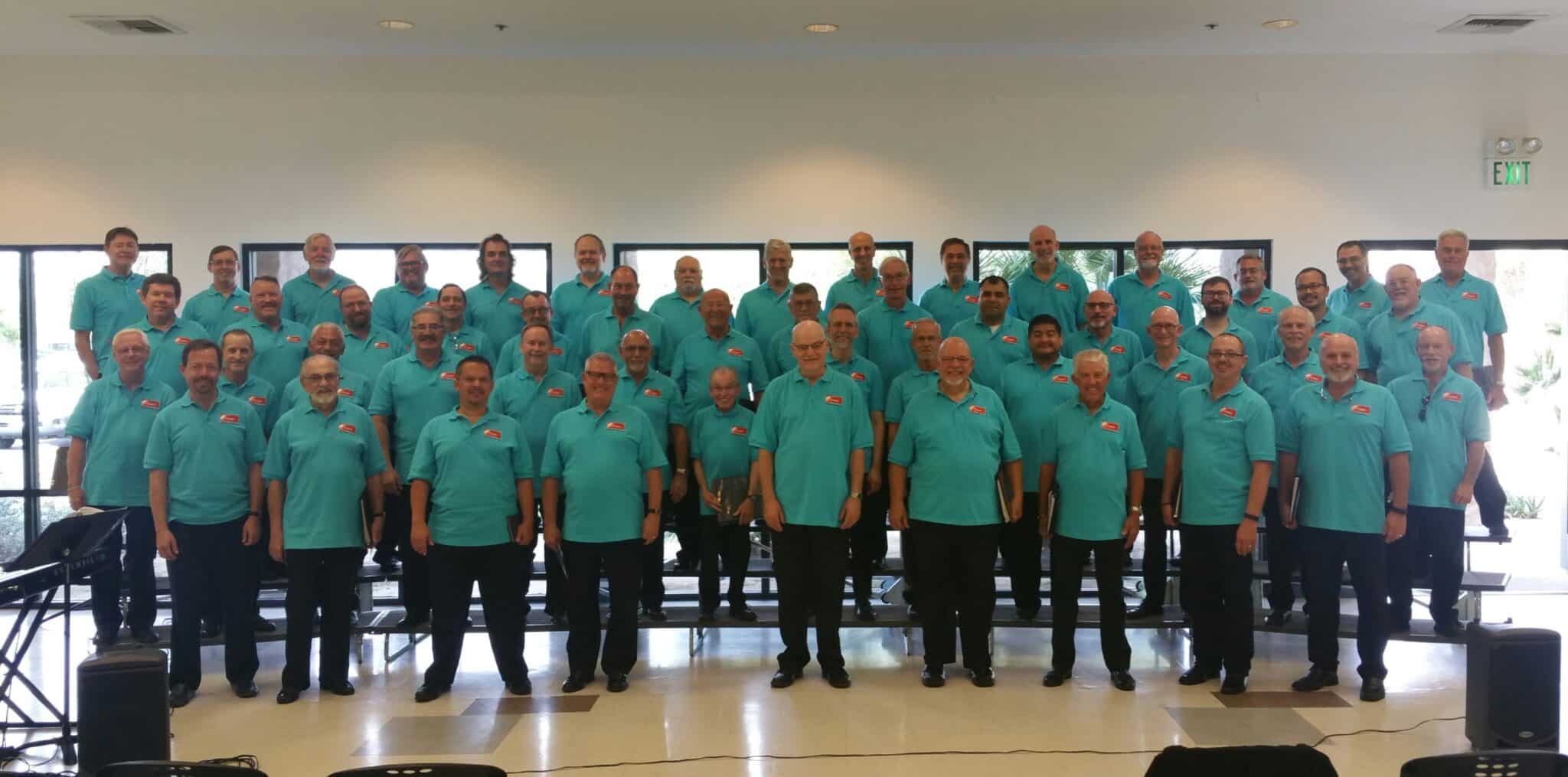 Joining the Palm Springs Gay Men's Chorus
The Palm Springs Gay Men's Chorus is an auditioned, volunteer choral ensemble consisting of male singers age eighteen and older, gay or gay friendly. With a wide range of varying musical training and backgrounds, the chorus is committed to fostering an environment of professionalism, respect, pride and unity. The Palm Springs Gay Men's Chorus is comprised of gay, transgender, and straight-allied men of all ethnicities. Please see below for more information.
Membership Standards
The Palm Springs Gay Men's Chorus is committed to a standard of excellence in singing. While the PSGMC welcomes singers with good vocal training, and strong music reading skills, most of our members have little or no music training. The Chorus seeks men who enjoy singing and can match pitch. Have a pleasant voice, be in good vocal health, be male over the age of 18 and gay or gay-friendly."
A strong sense of pitch and rhythm.
The ability to blend well with other voices and follow direction.
The ability to learn music quickly, through a variety of means, regular rehearsals, section rehearsals, rehearsal tracks provided by the Chorus, self-study, etc.
Ability & time to work on the music outside of rehearsal. Perform it from memory.
A congenial demeanor, a sense of cooperation, and the willingness to work for the highest possible standard.
Annual membership dues, $120.00 (scholarships are provided for those in need).
Strive to sell 10 tickets to each PSGMC Concert
Auditions
Auditioning can be a stressful process, but we try to do our best to make it as easy and friendly, as possible. The audition is private. The Artistic Director and accompanist, and maybe the directors of our small groups, are the only ones in the room for your audition. While you are auditioning, the members of the chorus, in a different room, are sharing experiences and telling other prospective members what to expect. You can prepare a song for your audition. We have an excellent pianist who will be happy to accompany you for your audition.
It helps if you can provide the music, but Joel, our accompanist, knows most of the standards and can find a comfortable key for you to sing. If you don't feel comfortable with a prepared solo, I will ask you to sing a familiar song, "Happy Birthday", "My Country Tis of Thee", etc.
After you have sung for us, the Artistic Director will have you sing some simple scales to determine your vocal range and your place in the chorus. Relax and enjoy the experience. Take a deep breath. We all know how stressful this can be. We will do our best to make your audition a positive experience.
If you are unable to attend our info night, please contact the Artistic Director, Douglas Wilson at PSGMCdirector@gmail.com to schedule a more convenient time.
You will be notified the day after your audition regarding the results. An Audition Form is found at the end of this information. You may print a copy, complete it and bring it with you to the audition.
More Information
You can download the latest Palm Springs Gay Men's Chorus Information Sheet by clicking the document below…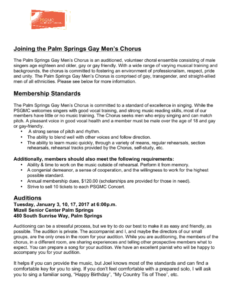 Volunteer Information
For more information about becoming a volunteer, please contact:
Skip Sidoti, Section 5
PSGMC Board of Directors Chair
volunteers@psgmc.com